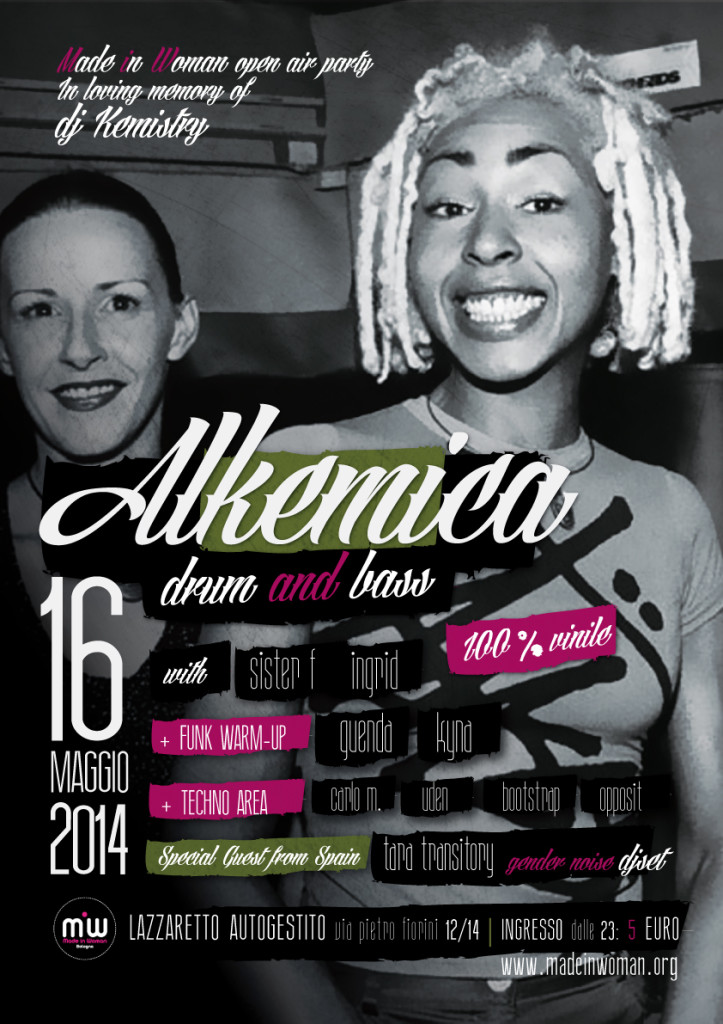 ☞  Tutto ha inizio verso la fine degli anni 80. Le amiche Kemistry e Storm ne hanno abbastanza della vita paesana che trascorrono nella provincia inglese e si trasferiscono a Londra. Qui scoprono la acid house e cominciano a frequentare i party illegali nelle warehouse, ma è quando si imbattono nel Rage (il leggendario club di Fabio e Grooverider in cui il movimento breakbeat/jungle/hardcore/dnb ha origine) che il loro destino cambia per sempre: Kemistry e Storm, rispettivamente truccatrice e radiologa, decidono di dedicare il loro futuro alla musica e diventare dj, inizialmente osservando i 'colleghi' al lavoro nei club, poi comprando i primi vinili e infine risparmiando i soldi per acquistare finalmente i giradischi.
TUTTO IL RESTO E' STORIA!
Kemistry e Storm introducono l'allora writer Goldie al genere drum and bass ed è così che nasce una delle etichette più importanti del panorama jungle mondiale: Metalheadz.
Grazie alla loro passione, competenza ed esperienza le ragazze si fanno strada nell'ambiente esplorando, anche grazie ai preziosi dubplate degli amici dj, sottogeneri differenti di quello che una volta era un unico movimento musicale: il loro mix DJ Kicks resta una pietra miliare della Breakbeat Culture contemporanea.
THE END IS ANOTHER BEGINNING
Kemistry muore a 35 anni in uno stupidissimo incidente stradale ma la sua storia continua: Made in Woman, a distanza di 15 anni, vuole ricordarla attraverso il sound di ragazze che come lei, fra mille difficoltà, hanno fatto della musica una ragione di vita.
Because Kemistry is still "paving the way for other, younger, female DJs"… and so are we.
16 MAGGIO 2014
@ Lazzaretto Autogestito
Made in Woman presenta:
★
AL
KEMI
CA ★
JUNGLE/DNB/FUNK night 
in loving memory of Valerie Olukemi A "Kemi" Olusanya a.k.a. Dj Kemistry
(October 13, 1963 – April 25, 1999)
w/

SISTER F.

|

INGRID (Beat Kouple)
FUNK warm-up by



GUENDA
&
KYNA
TECHNO area w/ MiW friends:



Carlo M.
b2b
Uden

Opposit
b2b
BootStrapp
SPECIAL GUEST:
_______________________________________________
dalle 23:00
@Lazzaretto Autogestito
via Pietro fiorini 12/14 – Bologna
EVENTO FB: https://facebook.com/events/ALKEMICA/
INGRESSO: 5 EURO
(autofinanziamento delle attività Made in Woman)